Minds Matter: Empowering Fertility Patients with Psychological Support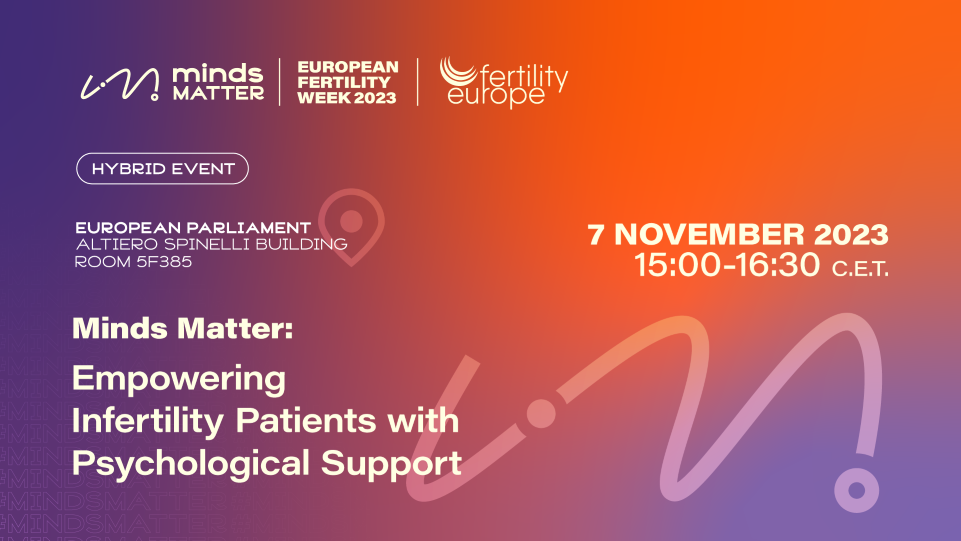 European Fertility Week (EFW 2023), 6-12 November, with the theme "Minds Matter: Empowering Fertility Patients with Psychological Support".
SUPPORT IS NEEDED!
This year, Fertility Europe aims to spotlight the need for psychological support services to individuals before, during, after, and even instead of fertility treatments across Europe to address the sociocultural and financial pressures on patients and families and raise awareness on navigating the structural obstacles within healthcare systems to access care. Destigmatising infertility and fertility awareness will also be featured topics.
It's important to note that this year's EFW is focused not only on patients but on the fertility community as a whole. Through our outreach, we are including people who experience infertility, involuntary childlessness, secondary infertility, as well as gamete and embryo donors and donor-born children. We also wish to honor the diversity of approaches to addressing infertility, so we will also consider the experiences of individuals who may choose to pursue treatment as well as those who choose to discontinue treatment or opt out of treatment altogether.
READ OUR RECOMMENDATIONS FOR PSYCHOLOGICAL SUPPORT IN INFERTILITY here
BEAT THE STIGMA
Involuntary childlessness and undergoing fertility treatment are ever-present taboos in modern society, exacerbated by a myriad of cultural, social, and religious factors. People having trouble conceiving are in most cases exposed to often unbearable pressure from peers and family, impacting their mental and emotional well-being and entrenching the psychological burden of infertility. Despite growing awareness and sensitivity, infertility and mental health are two sensitive topics that are often brushed under the rug.
MENTAL HEALTH MATTERS
The medical causes of infertility can often be addressed by leveraging a range of medical interventions to manage and facilitate conception; notwithstanding, the psychological aspects of infertility that may arise along the way are often overlooked and underestimated. This means that common feelings of distress, loss of control, and stigmatisation are not properly addressed in the patient journey. Infertility can take years off one's life, consuming their personal and professional relationships, not to mention the relationship with themselves, their body, and their minds. Aspiring parents grapple with a wide range of mental health issues which can present as having low motivation or poor performance at work, distancing themselves from conversations about pregnancy or children, avoiding friends and loved ones, especially those with children or those who frequently bring up the topic of having children, and isolating themselves entirely, all of which have adverse knock-on effects on their lives and those of their loved ones.
LONG YEARS OF CARRYING THE BURDEN
The burden of infertility starts before individuals even consider pursuing treatment. Individuals try for months and even years to conceive on their own, often to no avail, or, unfortunately, conceive only to not carry to term. The decision to seek medical help is a difficult one that not all individuals or aspiring parents make. Those who do go to their first appointment with a fertility specialist carry the weight of their previous experiences and hardships in trying to conceive on their own, however long that may have been. Longer down the line, individuals may have gone to multiple specialists and perhaps even undergone – often several – rounds of fertility treatments, putting an increased psychological burden on patients and their families. Additionally, there is a need to provide psychological support to other participants of fertility treatments, namely gamete donors and children who are born thanks to donation. For those who decide to pursue treatment or not, there is nonetheless a growing demand for psychological support to accompany and support them throughout their infertility journey.
READ ABOUT THE RESULTS OF OUR PATIENTS' SURVEY ABOUT PSYCHOLOGICAL SUPPORT DURING FERTILITY TREATMENT here
BARRIERS TO TREATMENT AND SUPPORT
There are distinct barriers to the availability and access of psychological support for people with infertility across Europe. Barriers to provision of psychological support from a health service provider perspective include the lack of national policies, relevance of guidelines, funding for services, and training of healthcare practitioners. On the flipside, barriers to uptake from a patient perspective include the stigma associated with infertility, cost of services, and geographical proximity to psychological support providers.
Infertility and fertility protection remain underestimated and misunderstood, despite affecting as many as 25 million EU citizens… and counting. Steadily falling birth rates across Europe will increase the demand and need for fertility services: as more individuals experience infertility, the greater the need for psychological support services to prevent, mitigate, and address negative impacts on mental health and well-being. The current state of play and undeniable sociodemographic trends point to a growing need for holistic interventions in fertility care, particularly psychological support, along the treatment journey.
Contact
Anita Fincham, Project & Advocacy Manager: anita@fertilityeurope.eu
Monika Bulmańska-Wingett, Office & Communication Assistant: office@fertilityeurope.eu