ESHRE Congress in Vienna and Fertility Europe's Annual General Meeting held during the Congress was another fantastic opportunity for us to meet stakeholders of infertility treatment and participate in their lectures and presentations.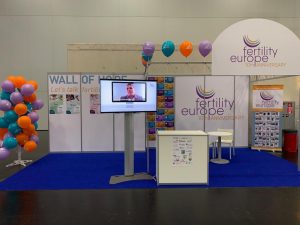 As every year, we were also able to provide the presentations ourselves to expand delegates knowledge of patients' perspective.
Our annual Patients' Session this year was on Communication during the infertility journey with 3 wonderful speakers addressing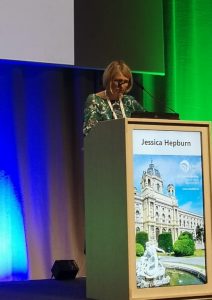 most important issues for the patients:
Sandra Jovanovic (Sansa za Roditeljstvo, Serbia): "First visit – problems in communication with fertility specialists", 
Jessica Hepburn: "Dear Doctor – can you hear me? Improving communication between professionals and patients" 
and Ellen van der Valk (Freya, Netherlands): "When there's a big disappointment, we don't know if that's the end of the story".
The session was very well attended and received with many listeners stopping to talk to the speakers and Fertility Europe's members and find out more about our work.
For the first time this year we were also presenting in ESHRE Theatre, where you can gather much small audience for more direct discussion.
Ana Galhardo (APFertilidade, Portugal) and Mariana Moura-Ramos presented the outcome of a debate in Portugal regarding successful legal change to ban anonymous gamete donation.
Satu Rautakallio-Hokkanen (Simpukka, Finland) and Afroditi Alexopoulou (Kiveli, Greece) together with doctor Antti Perheentupa (Finland) presented important aspects of patients' version of ESHRE Guidelines on endometriosis.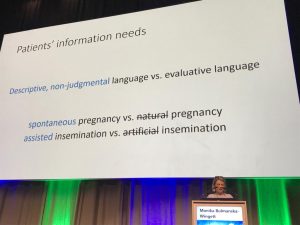 We were also present at the Patient Education Session with Monika Bulmańska-Wingett (Nasz Bocian, Poland) informative and moving "Patients Information needs".
Fertility Europe' AGM approved the Annual Report and accounts for 2018, as well as the plan and the budget for 2019. 
Members voted for accepting amended Ethics Paper and Advertising, Meeting and Internal Policies.
Members also approved Beba Vise form Brcko District, Bosnia and Hercegovina as a full member – congratulations and welcome!
And as in our every meeting, we have discussed plans for the next joined projects, Members' best practice, successes and concerns.
Having Members meeting at ESHRE Congress gives us opportunity each year to invite amazing guest speakers and this year we were hosting Vasanti Jadva (Cambridge University) speaking on 'Anonymous, identity release and known donation: Family relationships and child wellbeing' and Cindy Farquhar (University of Auckland) with James Duffy (Oxford University) speaking on 'Priority Setting Partnership for Infertility'.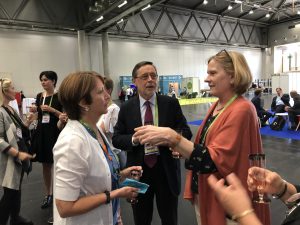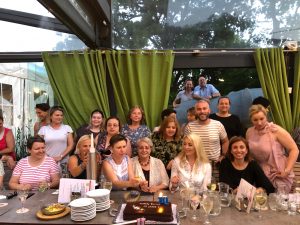 So important for all of us to meet face to face and work together with this amazing group of Members! This year Fertility Europe celebrates 10th anniversary, so we invited our guests for a drink party in our booth and celebrated in truly Viennese style with the Sacher cake. We got plenty of wishes to keep our good work for the European Patients and to grow, so we can work on all our plans and dreams. Happy Anniversary to us!