"Minds Matter: Empowering Infertility Patients with Psychological Support"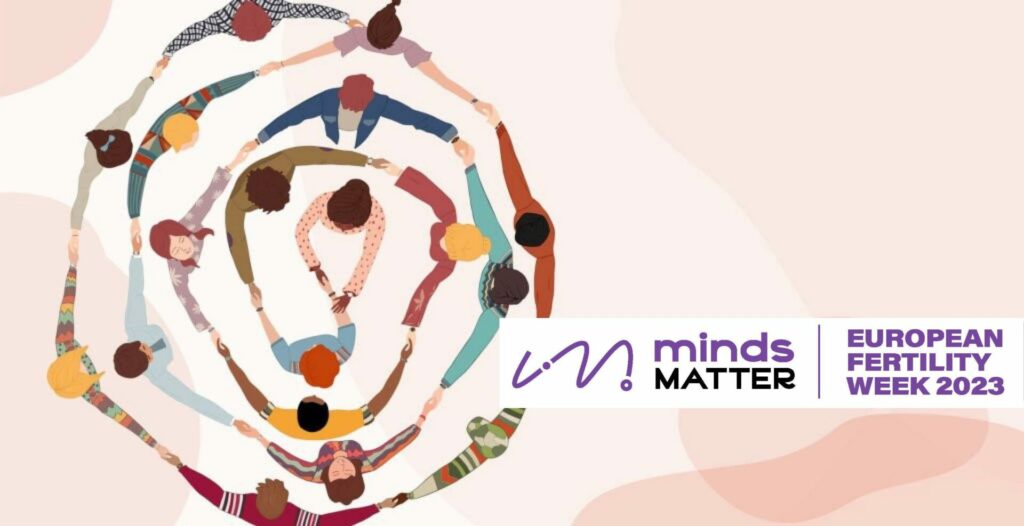 BRUSSELS, 6 November, 2023
Today marks the beginning of the 8th European Fertility Week (6-12 November 2023), organised every first full week of November by Fertility Europe – the European umbrella organisation representing over 30 national patient associations in the field of (in)fertility.
Titled "Minds Matter: Empowering Infertility Patients with Psychological Support", this year's Week aims to raise awareness of the emotional burden of infertility and encourage open, honest, and vulnerable conversations about all aspects of psychological support throughout the patient journey, notably the importance of post-treatment support and destigmatising infertility.
Infertility, silently impacting nearly 25 million citizens across the European Union (EU), extends beyond physical ramifications. The complex interplay between infertility and mental health calls for urgent and compassionate focus.
Reflecting the experiences of numerous infertility patients, our recent survey of over 2.500 participants revealed that nearly 80% felt the necessity for psychological support from mental health professionals, such as psychologists, psychiatrists, or counsellors, throughout their infertility journey. This encompasses the stages from unsuccessful conception attempts to potential diagnosis, treatment, and outcomes, highlighting the profound impact on their mental well-being. It is with a deeply concerning figure like this in mind that the campaign seeks to:
SECURE SUPPORT from policymakers for the indispensable psychological assistance needed during fertility treatments.
FOSTER SOLIDARITY through transparent conversations surrounding the multifaceted nature of psychological support during the infertility journey.
GATHER & SHARE BEST PRACTICES to cope with the psychological repercussions of infertility.
FORMULATE RECOMMENDATIONS to enhance policy frameworks at both European and national levels.
In alignment with our campaign, Fertility Europe, in collaboration with the European Parliamentary Forum for Sexual and Reproductive Rights, recently published a White Paper titled "The Imperative of Equal Access to Fertility Treatments across Europe". This comprehensive document underscores the significant emotional distress and stress experienced by those grappling with fertility issues. Building on this foundation, Fertility Europe reiterates its existing Call to Action. This appeal champions the universal recognition of the right to pursue parenthood, endorses equitable access to fertility treatments, advocates for comprehensive public funding for fertility procedures, emphasises the need for holistic fertility education, and embarks on campaigns to counteract the stigma associated with infertility.
On this launch day, Klaudija Kordic, Fertility Europe's Chairperson, said: "The burden of infertility and involuntary childlessness is the reality for tens of millions of EU citizens every day. As we learn more about the interactions between infertility and mental health, it is clear that psychological support can play a crucial role in the infertility journey. Europe must make sure that everyone starting this journey is offered psychological support as an integral part of fertility treatment. Together, we can and must make a difference!"
To amplify our efforts, Fertility Europe is organising a roundtable at the European Parliament on November 7 (15.00 – 16.30 CET), also accessible virtually. Hosted by MEPs Eleni Stavrou (Cyprus, EPP) and Estrella Dura Ferrandis (Spain, S&D), this gathering will bring together policymakers, infertility patients, psychologists and other stakeholders to further discuss and advocate for the campaign's objectives. More details about this event can be found here.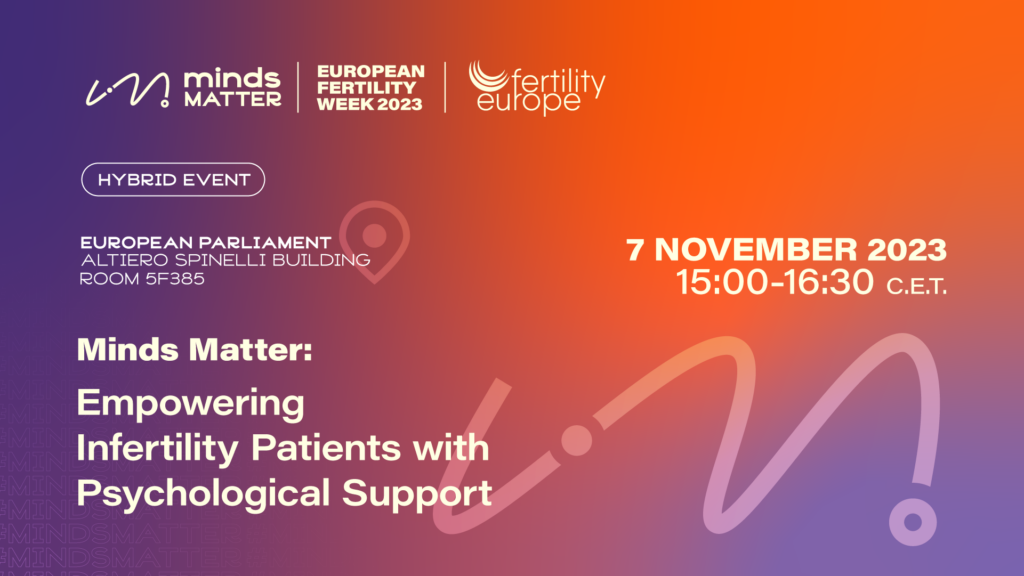 European Fertility Week 2023 is an open invitation for all – policymakers, healthcare professionals, and the public – to rally behind the "Minds Matter" campaign. We encourage you to share and promote its vital messages and content using the hashtags #MindsMatter #EuropeanFertilityWeek and #EFW2023.