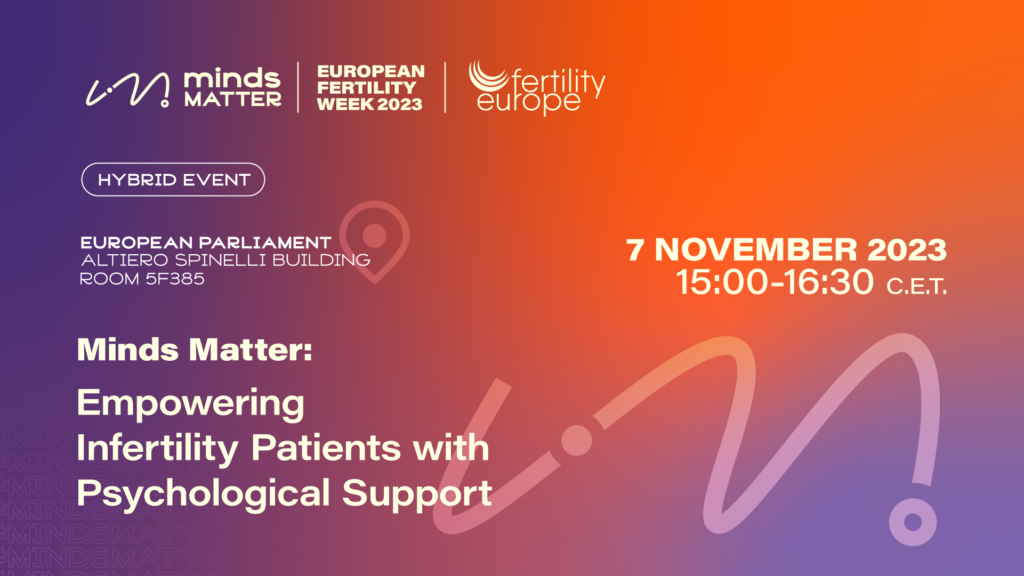 Fertility Europe, the European umbrella organisation representing over 30 national patient associations in the field of infertility, will hold an event entitled: "Minds Matter: Empowering Infertility Patients with Psychological Support". It is scheduled on November 7, 2023, from 3 to 4:30 pm. in the European Parliament in Brussels.
This hybrid event will be a part of our annual European Fertility Week (EFW) during which our organisation, members and supporters raise awareness of infertility and advocate for equal access to safe and efficient treatment.
This year's edition is dedicated to infertility as a comorbidity to mental health issues and the need for psychological support services across Europe for all individuals facing infertility and struggling with emotional burdens and distress. It will feature interventions from patients, healthcare professionals and policymakers. We will take the opportunity to present the results of our latest survey on Psychological Support around infertility with over 2,500 responses from across Europe and patients' recommendations on access to mental healthcare based on the survey outcome. We aim to push the process of easing the emotional burden of infertility and encourage much-needed conversations about all aspects of psychological support throughout the infertility journey, notably the importance of post-treatment support and destigmatising infertility.
This presentation will be followed by a Q&A session allowing ample time for debate.
To find out more and join us in person or virtually,  please register through THIS LINK