In July Fertility Europe participated in the annual ESHRE Congress in Barcelona and held the Fertility Europe Council Meeting. There were 24 representatives from 16 associations. Seems that the time of ESHRE gets more and more busy every year for us!
ESHRE congress provides amazing education opportunity for our Members, who can participate in the lectures and presentations by most renowned specialists in the field of infertility. It is also a chance to meet the specialists in person and discuss the topics, that are important to us all. Our Chair (just reelected!) Satu Rautakallio-Hokkanen was invited to join the Ethics Committee of ESHRE and we are sure, that she can contribute splendidly with the patients' outlook on ethics.
The Fertility Europe Council meeting
Fertility Europe Council Meeting held in Barcelona resulted in election of new Executive Committee for the term 2018-2021:
Satu Rautakallio-Hokkanen/Simpukka/Finland as Chair
Klaudija Kordic /RODA/Croatia as Vice-chair
Afroditi Alexopoulou/Kiveli/Greece as Treasurer
Irina Popova/Zachatie/Bulgaria as Secretary
Karianne Bye/Ønskebarn/Norway – Member
and Ofra Balaban/CHEN/Israel and Iwona Komenda/Nasz Bocian/Poland as Deputy Members 
The new Executive Committee, mostly consisting of the members of the previous Committee will provide Fertility Europe with stable development and growth – congratulations and thank you for giving your time and effort again!
We have also officially welcomed new Members – Red Nacional Infertiles from Spain as full Members and Bebe Vise from Bosnia and Hercegovina as Candidate Member. Welcome – we are very happy to be growing organisation and representing more European patients.
The Council approved 2017 statutory documents and plans for 2018.
We have discussed the plans for the European Fertility Week 2018 and ideas for our new fertility awareness project based on the most important issues marked by FE Members in Valletta earlier this year.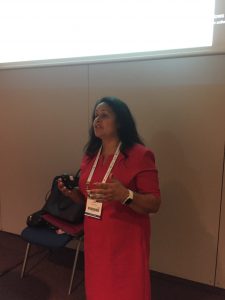 Guest speaker
Professor Joyce Harper was our guest speaker, who presented us with the work, that her team was doing in UK introducing the fertility education to the British teenagers and trying to make it part of the sexual education. Very interesting for all of us – one of the main and most pressing issues on the agenda of all FE members.
Patient session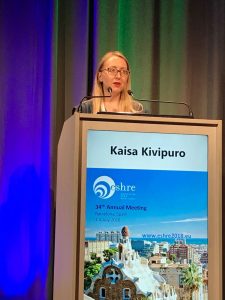 As every year we were also educating the ESHRE Congress with unique opportunity to present Patient Session, which was dedicated this year to Surrogacy – the patients' perspective presented by:
Ana Galhardo/Portugal: Surrogacy in Portugal – from struggle to accomplishment 
Amrita Pande/South Africa: Surrogacy and stratified kinship
Kaisa Kivipuro/Finland: What it is to be a wombless woman in the age of ART's? Patient's perspective on gestational surrogacy in Finland.
Our sincerest thank you to the speakers!
Cooperation with stakeholders and other partners
Anna Krawczak (Nasz Bocian, Poland), who was representing Fertility Europe in WHO (World health Organisation) works on new definition of infertility and related guidelines, presented the process and the results at the Council meeting for the members. As the new definition will include the social infertility as well as medical, FE will work on adjusting the message and mission in the near future to incorporate the guidelines.
The ESHRE Congress was also opportunity for FE to meet our partners and other stakeholders – hoping to continue the good cooperation and support as a result of the meetings.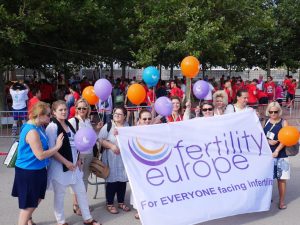 The Fun Run
ESHRE Congress also means Fun Run – fundraising event organised by ESHRE to support Fertility Europe. FE provides annual enthusiastic cheering to the runners and a big thank you to ESHRE. 
COMMIT meeting
Last, but not least – we were invited to participate in stakeholder consultation meeting of COMMIT – Core Outcome Measures for Infertility Trials. This is a very interesting and important initiative aiming to provide research into fertility easier to compare and interpret. We feel that our voice as patients was well listened and considered. We are looking forward to hear about the next steps.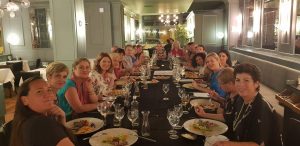 We were all charmed by the beautiful Barcelona, enjoyed our Fertility Europe traditional delicious dinner together and wish we had more time to be tourists! 
However, as always – the best thing about the meeting was being together with Fertility Europe Members and working together!
See you soon, Friends!