Last week we have visited the Fertility Fest in London, describing itself as the world's first arts festival dedicated to fertility, infertility, modern families and the science of making babies.
The fest features 150 artists and fertility experts in a week-long programme of events, entertainment, discussion, debate, support and solidarity.
The directors of the festival are Jessica Hepburn, author of the book 21 Miles: Swimming in search of the meaning of motherhood and Gabby Vautier – a theatre and event producer and also IVF mum.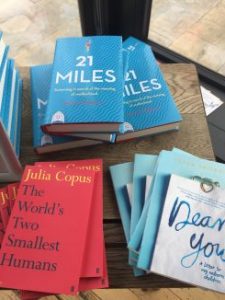 We have participated in the Friday session, beginning with 40 years of IVF celebrated by the artist Gina Glover and the presentation of her work Life in Glass, which awarded her unprecedented access to the archive of Professor Robert Edwards. The discussion following this presentation involved Dr Key Elder, who was reminiscing on her work alongside Robert Edwards in the early days; Sally Cheshire, the Chair of UK regulator of fertility treatment and Dr Roy Farquharson, Chair of ESHRE.
The rest of the day presented a challenge of selecting one of three session to participate and it was not an easy task as all seemed very interesting.
The Invisible Man session gave us more insight into the men's experience of infertility and the treatment – voices of men rarely heard and with such striking honesty. Two films The Crossing by Jack King and The Easy Bit by Thomas Webb opened a discussion about the men's emotions, the medical care practice as well as practicalities of performing their 'easy bit'.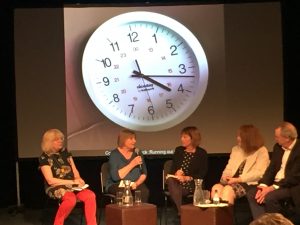 The next session The Business of Fertility asked many questions about the financial aspects of infertility treatment – the choices that patients make when blinded by hope and despair are not always right for them. Should there be a better guidance by the doctors and clinics on the patients' choices? Or maybe the guidance should be independent? The information on the efficacy of their treatments is much needed for the patients and still too few clinics provide it.
I was very sorry to miss the session Race, Religion and Reproduction as this subject affects many of our member associations and their struggles for better regulations and patients' support.
Fertility Fight Club, which was also streamed live on facebook on Friday, Saturday and Sunday (you can find it on Fertility Europe Facebook profile) is a selection of 10 minutes talks about fascinating and often controversial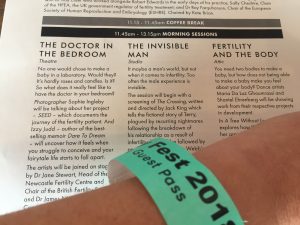 subjects presented by feisty individuals, knowledgeable and passionate about their subjects.
We very much liked the Quiet Room, available to everyone who needed a peaceful moment throughout the day, every d
ay of Fertility Fest. A nice cup of tea or coffee and volunteers well prepared to listen and talk.
Meeting a lot of interesting people, making contacts that will serve Fertility Europe in the nearest future and got plenty of inspiration! Thank you, Fertility Fest Team and looking forward to hearing from you before the next event!