Geneva, July 2017
Fertility Europe present at the ESHRE Geneva Congress
Fertility Europe will be presenting the Wall of Hope – photos and stories of real families, who wanted to share their testimony of facing infertility. Please, come and have a look at the beautiful families of Europe in the courtesy area of ESHRE. We look forward to talking to you in the Fertility Europe stand, located in the exhibit hall.
On Tuesday, July 4, we will once more organize the Patient Session in the ESHRE congress. The subject for 2017 is:
Pushing things forward: accelerating change – patient association role in MAR.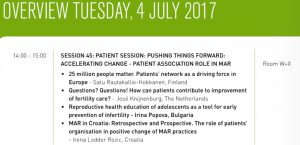 We would also like to recommend congress attendents to take part in the Fun Run which will take place on the 3rd of July 2017 at 18.30 in the park in front of the PalExpo main entrance (E10). As every year ESHRE members and participants team up with Fertility Europe to do a little good for their own health and help raise funds for patient groups throughout Europe.
Join and register for the Fun Run or just come and cheer the runners!
See you in Geneva!