Launch event in the European Parliament of the White Paper "The Imperative of Equal Access to Fertility Treatments across Europe" co-hosted by MEPs Frances Fitzgerald and Robert Biedroń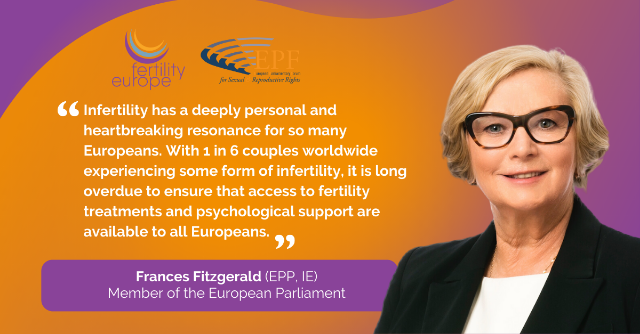 Brussels, 6th June 2023
Fertility Europe (FE) and the European Parliamentary Forum for Sexual & Reproductive Rights (EPF) are pleased to announce the publication of their White Paper titled "The Imperative of Equal Access to Fertility Treatments across Europe" which will be launched today, 6 June in the European Parliament.
Building on the findings of Fertility Europe's "European Fertility Treatments Policies Atlas," this White Paper delves into the barriers to achieving equal access to fertility treatment across Europe. It examines the legal frameworks of European countries, including political choices that may restrict access to certain groups, the provision of financial support, and the availability of accurate education and information on fertility. Moreover, the White Paper proposes necessary measures to ensure equal access to safe and efficient fertility treatments across Europe.
"The Imperative of Equal Access to Fertility Treatments across Europe" calls for the guarantee of essential Sexual Reproductive and Health Rights (SRHR) by the European Union to all citizens of the Member States and by policymakers in other European countries. The White Paper aligns with the European Parliament's resolution of 24 June 2021 on the situation of sexual and reproductive health and rights in the EU, emphasizing the importance of accessing all essential SRHR services, including comprehensive sexuality education, contraception, abortion, maternal health, and fertility services.
Infertility in Europe
Infertility, defined as the failure to achieve a pregnancy after 12 months or more of regular unprotected sexual intercourse, affects approximately 17% of the population, highlighting its global significance[1]. Within Europe, this figure rises to 1 in 6 couples of reproductive age, which translates to 25 million EU citizens alone[2]. Furthermore, there is a group of involuntary childless people living without children for non-medical reasons, despite their deep desire to become parents. The emotional distress and strain experienced by those affected can have a detrimental impact on their relationships, mental health, and overall well-being.
"Infertility has a deeply personal and heart breaking resonance for so many Europeans. With 1 in 6 couples worldwide experiencing some form of infertility, it is long overdue to ensure that access to fertility treatments and psychological support are available to all Europeans" said MEP Frances Fitzgerald (EPP, Ireland), one of the co-hosts of the launch event.
Access to fertility treatments varies significantly across Europe, with some countries offering publicly funded programs, while others rely on private insurance or out-of-pocket payments by patients. Inequalities exist based on factors such as region of residence or coverage of compulsory medical insurance, including limitations on the number of cycles or treatments covered. Many countries impose restrictions on legal access, the range of available procedures, or funding for specific groups in need of fertility treatments. Therefore, it is essential to address these disparities to ensure that all individuals have equal opportunities to grow their families.
"Infertility affects 17% of couples across the EU. In addition, there remain involuntary childless people, who despite not having medical obstacles, struggle to become parents. This is why we need to increase our efforts to ensure that all European citizens can access affordable high-quality fertility treatments" noted MEP Robert Biedroń (S&D, Poland), Chair of the European Parliament's Committee on Women's Rights and Gender Equality and a co-host of the event.
The Launch Event
The event, co-hosted by MEPs Frances Fitzgerald (EPP, Ireland) and Robert Biedroń (S&D, Poland), will count on the presence of patient representatives and contributors from the European Society of Human Reproduction and Embryology and the European Patients' Forum.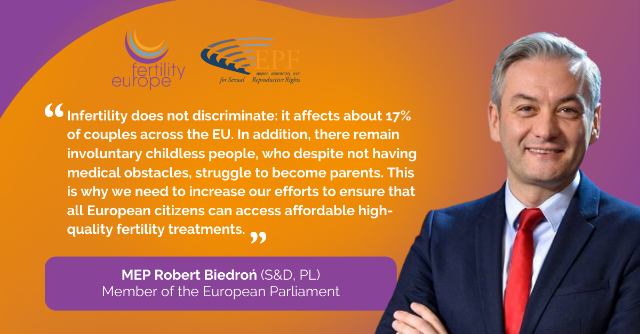 The launch event aims to provide a multi stakeholder platform to share and discuss accurate and up-to-date information on infertility, its prevalence, implications, and discrepancies in the availability and access to fertility treatments across Europe.
Furthermore, the recommendations of the White Paper for European policymakers will be presented. The recommendations aim to ensure that all European citizens receive equal access to treatment as part of their right to attain the highest possible level of sexual and reproductive health. By implementing the recommendations outlined in this White Paper, stakeholders can work towards a future where every individual and couple has equal opportunities to realize their reproductive goals, regardless of their location or background.
FE and EPF are thrilled to invite you to read the White Paper, which represents a significant milestone in the journey towards improving access to fertility treatments across Europe. Your endorsement will carry significant weight and help amplify our message to policymakers, healthcare providers, and the general public across Europe. Together, we can work towards a future where fertility treatments are accessible, affordable, and inclusive, providing hope and support for all those facing infertility. For more information about the launch event or to endorse the White Paper, please contact Monika Bulmańska-Wingett at office@fertilityeurope.eu.
About Fertility Europe (FE)
Fertility Europe is the European organisation representing patients' associations dedicated to (in)fertility enabling the cooperation and network of those concerned with fertility problems, patient empowerment, fertility education and advocacy for better regulations of access to fertility treatment. It was established in 2009, and currently has 31 member associations from 28 countries. FE is the patient partner organisation of European Society for Human Reproduction and Embryology (ESHRE).
About the European Parliamentary Forum for Sexual & Reproductive Rights (EPF)
European Parliamentary Forum for Sexual & Reproductive Rights (EPF) is a network of members of parliaments from across Europe who are committed to protecting the sexual and reproductive health of the world's most vulnerable people, both at home and overseas. EPF currently has 31 Members – All Party Parliamentary Groups on Population and Development throughout the European continent. It was established in Brussels in 2000.
---
[1] WHO. Infertility. Available from: https://www.who.int/news-room/fact-sheets/detail/infertility
[2] ESHRE. Factsheet on infertility-prevalence, treatment and fertility decline in Europe. 2021.